Picture this: the weather's improving, you check the forecast and it's going to be glorious. Unfortunately, there's a long list of motorcycle maintenance that you've been neglecting over the winter. We've all been there! Sometimes it's difficult knowing where to start. That's why we've put together this maintenance checklist for you to run through before getting your bike back out on the road.
Overall Check
This step might sound a little obvious, but it's easy to get too comfortable with your bike and start skipping regular checks. Every part will gradually wear, so it's important to give it frequent once-overs. This way you'll be able to spot anything unusual as and when it crops up.
Check for any leaking fluids, oil streaks or dirt on your forks that could be failed seals. Any fluids that have been leaking for some time might have caused a build-up that will need to be cleaned. Look at all of the different moving parts – is your kickstand deploying smoothly? Have you checked your swingarm and suspension link rods?
Make a regular effort to check your lights & horn, and don't neglect to ensure that your registration and insurance are up to date. If you make a habit out of your overall checks, you'll become more familiar with what your bike should look, sound and feel like, meaning that any anomalies can be addressed immediately, prolonging its life.
Battery
If your battery's been inactive over the winter, or it's getting a little older, it's worth plugging it into a maintenance charger and checking whether it takes a full charge. If it doesn't, it's not the end of the world, but it's definitely time to start considering a replacement! If you want to be doubly sure, you can use a multimeter to measure exactly how well your battery is still performing.
Make sure to give your battery a good clean before running your bike. Wipe down the terminals before coating with dielectric grease (this prevents corrosion). Check the fuses in the fuse box as well, and chuck in a few spares for peace-of-mind.
Fluids
Replacing your coolant and oil is something that you really should be doing regularly.
For your coolant, flushing your system with water will help to stop interior corrosion. If your coolant is older, it won't be as effective either.
Many of us put off our oil change for way too long. Our best tip is to deal with it proactively. Even if you're not imminently due an oil change, it's still worth changing it earlier rather than making it last as long as possible (this is better than realising your oil needed changing as you're broken down on the side of a road!).
Tyres & Wheels
Keeping a close eye on your tyres & wheels is always a good idea. Superficially, look for any depressions, breaks or punctures that need to be sorted. Consider the age of your tyres, too. If they're not being used too much, then older tyres might still be functional, but bear in mind that older tyres that haven't been used much might have deteriorated slightly more than a newer tyre with a similar mileage. Generally speaking, as long as a tyre has been looked after, it can last for a very long time. Before you get started, don't forget to check your tyre's pressure with a gauge.
The main indicator that your tyres are on their way out is the tread. This is especially critical if you're running your bike fairly often – monitor your tread depth regularly. Some tyres have wear indicators, which make this job much easier. When you get new tyres, familiarise yourself with the tread depth so that you can compare if needed.
If you've got a lift, it's worth suspending your bike and checking your wheel bearings. Firmly grab the wheel on each side and give it a shake. You don't want it to give too much, it should be steady. If it feels tight, give the wheels a spin. You want a nice, smooth action, not a rough response.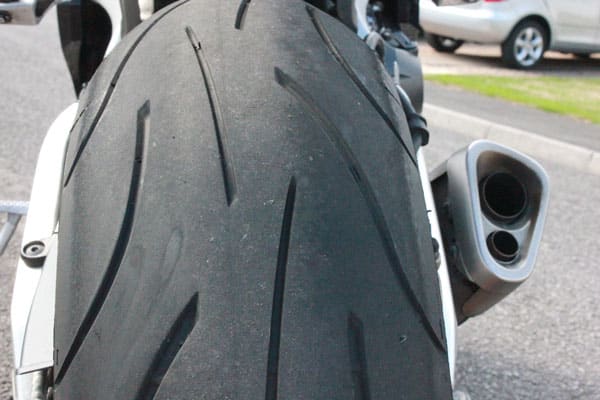 Brake Pads
It's easiest to check your brake pads when your bike's suspended. If your bike's been sitting inactive, there might be a little rust on the surface of the brake pads – nothing to worry about! This will clear itself as soon as the brakes are used. Before you run your bike, we recommend a quick spray with brake cleaner to remove any accumulated dirt, dust, carbon and oil from all of your braking components.
Like with your tread, it's prudent to measure the remaining depth on your brake pads and compare it against the manual spec to ensure that they're still safe. Just like with other fluids, brake fluid is very easy to neglect. If you've never changed it, or haven't done for a long time, this is a great time to sort that out, too!
Check Your Drive
Whether you're running a chain or a belt, you'll want to be inspecting it regularly for imperfections. Check for any excessive wear or seizing links. If your tension is a little lax, we recommend using either a belt tensioning tool or a chain tensioning tool to help easily return your drive to its peak condition.
Once you're happy with the tension, grab yourself some quality chain lube & chain wax to help keep your drive working at 100%, extending its lifespan.
Freshen up Your Controls
Last, but by no means least, you'll want to double check your clutch & throttle to make sure they're operating smoothly. You might need a cable lubricator if they've been unused for some time. Turn your handlebars and make sure that they feel responsive. Running these checks regularly allows you to feel small changes if they happen and respond accordingly.
Motorcycle Maintenance with Tru-Tension
Endorsed by Dragons' Den investor Touker Suleyman, Tru-Tension specialise in motorcycle maintenance products. Our tools, waxes, gels and lubricants are industry leading at affordable prices.
Our products are perfect for riders of all levels, no matter the level of experience.